Best gaming pc build
It's one thing to take up PC gaming as a hobby, but it's another level when you're building your own gaming PC from scratch. For the handful of PC gamers out there, a gaming PC build goes way beyond what a prebuilt gaming PC has to offer.
These gamers who build their own gaming PC from the ground up aren't satisfied with the sheer power of the hardware itself. These are people who are particular about how good their PC looks aesthetically. Maximum performance is the name of the game here, but there is a minority of gamers out there who are thematic about the way they build a new gaming PC.
If you want to venture into the world of gaming PC builds, there are tons of resources out there to help you get started. And we're one of the groups out there who can help you achieve the best gaming PC build possible.
By the time you've gone through the entirety of this article, not only will you have your own PC build, but you'll also have enough information to proceed with the next gaming PC build.
What Do You Need To Build a Gaming PC from Scratch?
If you're going to build your own gaming PC, you'll need the following components along with some tools. You'll need to make sure that the parts you pick out are compatible with one another.
The first biggest mistake that novice builders make is thinking that all PC parts go together. This assumption is mostly true, to some extent. The internal functionality of the PC hardware will determine whether or not parts are actually compatible with one another. And when compatibility is an issue, you often encounter what's called bottlenecking.
Bottlenecking happens when there's not enough power from one hardware to complement another hardware's power. For example, having a powerful GPU or graphics card but a mediocre processor will result in a bottleneck. This is because the processor will find it difficult to keep up with the graphics card, and so the graphics card has to slow down to match the processor's performance. Bottlenecking is also a common issue in PC gaming, especially with a prebuilt gaming PC.
For this section, we'll already go over the recommended hardware that you can use as a template for your first gaming PC. These are all the high-end gaming hardware and peripherals that you can get from local stores and online.
Here Are The Parts You Need To Build a Gaming PC
Processor (CPU)
Motherboard (MOBO)
Graphic Card (GPU)
Memory (RAM)
Storage (SSD or HDD)
Power Supply Unit (PSU)
PC Case
Build #1 – A Powerful Gaming PC Built Using AMD
The first build that we're about to show you is a gaming computer built using an AMD processor. We chose this processor because it's a lot more capable of handling multi-threading tasks such as video editing and rendering. If you're looking for a gaming computer that can do what a high end workstation can do, this is the build for you.
For a high end gaming pc, you need a powerful processor. And for this build, we have the AMD Ryzen 5 5600X.
But you're asking "why aren't you recommending the 5900X processor for this build?". While it's true that the 5900X is a lot more powerful, there's no significant discrepancy in gaming performance in any of the Ryzen 5000 chips.
In other words, the Ryzen 5 5600X is just as good as the 5900X for gaming. On top of that, the 5600X is a lot more affordable but still more powerful. The core count of the 5600X may be half as that of the 5900X, but you're still heading into it with 6 cores and 12 threads, which is sufficient for heavy editing workloads and even for intense gaming. We're convinced that the next generation consoles, or even the current gen consoles, are powered by anything higher than 8-cores and 16-threads.
The AMD Ryzen 5 5600X comes with the Wraith Stealth Cooler, so you don't have to purchase a third-party cooler. You don't really need to purchase a third-party cooler, or improve your current one, if you don't have any plans on overclocking the CPU.
Unlike the Ryzen 5 5600X chip, we're not cutting corners with the motherboard. Here, you're getting the best one there is in the market, and that's the Asus ROG Strix B550-E. Here's a future proof motherboard that's going to last you for at least 5 years or so without having to upgrade to a newer one.
As expected from the Asus Republic of Gamers' line of gaming peripherals and hardware, you're getting premium specs from the Asus ROG Strix B550-E. You're getting 14+2 power stage, pre-installed backplates, and M.2 heatsinks. It also comes with Wi-Fi 6 wireless network and an Intel 2.5GB Ethernet. Of course, we can never say NO to RGB led lights.
As with any Asus ROG motherboards, the Asus ROG Strix B550-E is capable of matching all the other high end motherboards out there today.
Let's set aside the fact that you're never going to find the RTX 3060 Ti right now at any of the stores online and locally due to the global shortage and hoarding of crypto miners. The Nvidia GeForce RTX 3060 Ti easily outperforms the RTX 2080, though not by a lot. If you're really eager to build this gaming PC, the Nvidia GeForce RTX 2080Ti is a solid alternative.
But going back to the Nvidia GeForce RTX 3060 Ti, its performance levels is unmatched compared to the RTX 2000 series. You can easily hit 1080p and 1440p resolution gaming at about 60fps or so. You could even hit 4k at 60FPS without making this powerful gaming PC work up a sweat.
It's also worth mentioning that the Nvidia GeForce RTX 3060 Ti is a lot cheaper than the RTX 2080 Super or 2080 Ti, so that's also something to incentivize you. If you can find one, that is.
In our articles concerning the best gaming PC builds, we've always settled for just 16GB of RAM. It's a straightforward decision when it comes to PC builds, mostly because you don't need anything higher than 16GB unless you're planning on running your own Minecraft server.
The prices for RAM sticks aren't that crazy, unlike the prices for graphics cards. Corsair and other future brands of RAMs offer 16GB of RAM for less than $100. You can choose between Gigabyte, Crucial, Ballistix, Adata, HyperX, PNY, Team, and XPG as far as we're concerned.
Regardless of the brand you want for the RAM installed in your gaming PC builds, the rAM should be at least DDR4-3000 or higher with a low CAS frequency.
While you could spend more money to get a high end PCIe 4.0 SSD, the WD Black SN 770 will actually get you high end performance that a PCIe 4.0 SSD gives you, at a more affordable price. And the gold standard for gaming PCs is to have an SSD for your primary storage. When we say primary storage, this is where everything is hosted – from your operating system to your games to your applications. With an SSD, you significantly increase load times and boot times, so you can start playing games and just spend a few seconds on the loading screen.
The SN770 is an NVMe M.2 SSD that offers you enough space for all your programs and games, and storage for your video and audio files even without forcing you to delete them to make room. What's even interesting here is that you can expand further up to 2TB SSD if you really want more storage, or cut down to 512GB if you feel like you don't need much for the best gaming PC.
While the SSD provides a far more superior performance in terms of storage compared to the HDD, it doesn't really hurt to have additional storage for your gaming PC. Most games you find on Steam and Battle.Net are about close to 100GB in size, which is why you probably need 1TB of SSD storage just to be sure.
For your additional files such as work files, video files, and other files, you can work with a standard 1TB HDD, which the motherboard can accommodate. On our end, we prefer an external storage so we can bring it around.
If you want external storage, we recommend the WD Black due to its 7,200RPM drive and a 32GB cache. At 1TB, you'll spend about $70 or less than that. Cheaper alternatives are the Seagate Barracuda or the WD Blue.
There's nothing more boring than talking about a power supply unit for a gaming PC build. But like having the birds and bees talk with your children, this is an unavoidable topic of conversation. For any gaming PC, you don't want to be cheap when it comes to buying a PSU. And for this PC build, we have the Corsair TX650M. It comes at an affordable price and dons an 80+ Gold Efficiency.
Power supply units from other future brands are just as good as the Corsair TX650M, but we wouldn't recommend anything less than a rating of 80+ Gold (Bronze if you want to skimp). The $10 or $20 saved up on buying a power supply unit is not worth it, to be honest. If you end up with a terrible PSU, you could end up damaging your graphics cards, processors, or the entire system.
For the Corsair TX650M, we have a modular PSU so you'll deal with less cable management inside the tasks. You only use wires when you actually have to use them.
As a future gaming PC builder/enthusiast, you're going to want to pay attention to PC casing. Some of the best gaming PCs out there have RGB lighting, tempered glass side panel, and a sleek black/white coloring.
For this build, we want your gaming PC to be as sleek as it can get with the NZXT H510. It's an affordable casing with premium features and aesthetics, so if you're going for that clean and minimalistic look, this is the case for you.
Ultimately, a gaming PC case is personal preference and doesn't really affect the overall performance. It does, however, restrict you with motherboard choices, cable management, and even radiator sizing (if you plan on building a liquid cooling system or AIO cooling).
Build #2 – An Extreme Gaming PC Powered By Intel Core CPU
The second gaming PC build that we're about to feature showcases a gaming computer with all the high end hardware you could ever get. These specs are what you'd usually find in PC builds that can run 4k gaming at 60FPS easily or something you'd find in a pre built system (like a high-end gaming laptop).
If you are considering this build, you're expected to spend a lot of money just to get the parts. This gaming PC doesn't shy away from the costs, but we'll provide you with the best gaming hardware alternatives as well.
If you want the best of the best, look no further than the Intel Core i9-12900K processor. This is the top of the line Intel Core processor and is the fastest chip in the market right now. But AMD still gives the Intel Core i9-12900K a good competition with the AMD Ryzen 7 5800X3D.
The Intel Core i9-12900K is a 12th generation unit with hybrid core architecture, characterized by a combination of Performance Cores and Efficient Cores (P-Cores and E-Cores, respectively). The P-Cores give the Intel Core i9-12900K all the power it needs for gaming at high resolution.
The Intel Core i9-12900K is also the latest hardware from the Intel Core lineup and provides the best performance in their product roster. With that said, expect to pay a couple more hundred dollars than the other Intel Core processors, namely the Intel Core i5 and Intel Core i7.
If you do decide to run with the Intel Core i9-12900K, you'll need a good motherboard, a powerful cooling fan, and a very sturdy PSU.
You're running an Intel Core i9 processor, so it's only fair that you get a compatible motherboard for it. And when we say compatible, we actually mean something that can withstand and house the awesome processing power of the Intel Core i9 and the graphics card (which we'll feature below).
Here, we have the Gigabyte Z690 Aorus Pro for this extreme build of a gaming computer. This is an all-specced out motherboard with 13-rear USB ports and strong VRM, capable of delivering consistent and clean power to all of your hardware.
And yes, you'll have the Wi-Fi 6 connectivity and 2.5GB Ethernet connections. Unfortunately, you don't have Thunderbolt 4 or another M.2 slot, which are unnecessary for this gaming PC.
Why isn't this an Nvidia GeForce RTX 3090? That's probably the first thing that came to your mind when you got to this part. For this extreme PC gaming build, we wanted something robust and powerful. Something that could make 4K gaming at 60FPS even for the most demanding AAA games. And the GeForce RTX 3090 would fit that tab, but there's also one more: the Nvidia GeForce RTX 3080 Ti.
The Nvidia GeForce RTX 3080 Ti has one of the best prices for graphics cards in the market right now, and is about $300 cheaper than the RTX 3090 (of course, if you can afford the Nvidia GeForce RTX 3090, go for it). At the $1,200 price tag, it's not a budget option but this build is anything but budget-friendly. Compared to the RTX 3090, the Nvidia GeForce RTX 3080 Ti is as capable of 4K gaming as its high-end sibling. Ray tracing at 4K is even possible, if you make use of the DLSS 2.0 feature.
However, this is still one of the most difficult graphic cards to find due to the global shortage and scalping issues that plague the graphics card industry at the moment.
This is the best gaming PC build we can imagine. You have a powerhouse Intel Core i9 processor and an Nvidia GeForce RTX 3080 Ti graphics card, so it makes sense to have a beastly cooler. Here we have the NZXT Kraken X62 and yes, it's the BEST PC cooler there is because it can handle overclocking the i9.
The reason why you're actually getting a cooler is that Intel Core processors don't have their own CPU cooler, so you'd have to rely on third-party coolers. They're not like the AMD Ryzen processors where they have their own coolers, but you can still opt to use the NZXT Kraken X62 with the first gaming PC build above.
If you plan on pushing the Intel Core i9 to its limits, you'll run into some problems if you just rely on the NZXT Kraken X62. You'll need a custom liquid cooling loop, which is far beyond the scope of this build, because not even the best AIO cooler can handle a maxed out Intel Core i9 processor.
You're probably wondering why we didn't settle for a DDR4 for the RAM, but this was just too good to pass on. With a motherboard that could accommodate DDR5 memory, it would've been a complete shame to use anything but a DDR5. With that said, we get two sticks of 16GB DDR5 RAM at 6400 frequency. The G.Skill Trident is one of the few DDR5 RAMs out there that we'd ever want to put into this build.
And yes, 32GB of RAM is more than enough for gaming or content related tasks such as video editing, 3D rendering, and so on.
If you think you've seen once, you've seen them all, but you haven't really seen a 4TB SD just yet. The Sabrent Rocket Q 4TB SSD packs a lot of storage and performs just as well with MLC drives. Granted, the Sabrent Rocket Q 4TB SSD may not be as bandwidth-friendly as other PCIe 4.0 drives, but without this combination of CPU and motherboard on this gaming PC, the Sabrent Rocket Q 4TB SSD's storage would be put to waste.
At this point, you won't even need an optional storage because you have everything that a gaming PC in 2022 will ever want in an SSD.
By this point, overclocking a gaming PC in 2022 is so yesterday's news, and this build is still capable of delivering more power from more cores. But do you really need to?
Well, in case you really need to overclock an Intel Core i9 processor, you'll need the EVGA SuperNova 1000G5. This bad boy offers 1000W of power for this extreme build and provide you with a smooth gaming experience unlike any other. After all, you need all that power for the Intel Core i9 processor and the Z690 motherboard we just put together, not to mention the RTX 3080 Ti.
But if you're not running an RTX 3080 Ti or an RTX 3090, you can make do with EVGA SuperNova 850T2 that should cut down on some costs for this extreme build.
A high end gaming PC deserves a high end case, and for that we have the Corsair Obsidian 1000D, a behemoth PC case with a tempered glass side panel, expansion slots, and enough space to house 18 fans and 4 massive radiators at one time.
And yes, this is the case that you need for when you're overclocking an Intel Core i9.
How To Choose Operating System and Computer Peripherals
We're done with the hardware so it's time to talk about the extras, such as the operating system and the peripherals. These are also integral to get you the best gaming experience possible out of the gaming PCs we've built above.
Operating System – Microsoft Windows
While there are three operating systems, namely Microsoft Windows, Apple iOS, and Linux, we're going to have to go with Microsoft Windows as the OS of choice for the gaming PCs on this article.
When it comes to gaming PCs, Microsoft Windows 10 is the most popular choice, achieving more than 80% market share back in December 2021. The reason why Microsoft Windows is so popular is its ease of use and user-friendly UI. It's easy to navigate and it's easy to install apps.
Updates are rolled out regularly and as long as you have it set to automatically update, you shouldn't have to worry about falling behind on the latest versions. Now, one could argue that Windows 11 is the new thing and easily outmatches the Windows 10 in terms of gaming. With Windows 11, you get access to a built-in store that houses thousands of game along with the Xbox app and more.
Mouse and Keyboard
Gaming PCs wouldn't be complete without a gaming mouse and keyboard. Much like the PC case, this is more of a personal preference than anything else. You can go for brands such as HyperX, Logitech, Razer, Corsair, and SteelSeries just to name a few.
Once you've picked up a brand, it's time to decide if you want to go the wireless route or if the wired setup is still the best gaming PC setup for you.
Gaming Monitors/Displays
A great monitor is half the build of what makes the best gaming PC, but ultimately, it's still a personal preference. What you really want to buy here is the monitor that matches the specs of your computer.
For the builds we've listed above, we recommend going for a 1080p/144Hz/240Hz monitor, or go for a 1440/144Hz monitor. If you want the best displays possible, settle for a 4K/60Hz monitor or 1440p/144Hz/240Hz monitor.
Other Points for Consideration For Building the Best Gaming PC
If you want to build a gaming PC, there are several things that you have to consider. But the main point of consideration here is your budget because it affects your ability to buy the components necessary for a gaming PC.
So how much should people be saving up for if they want to build the best gaming PC possible?
What Are Your Needs and How Big Is Your Budget?
Your needs are ultimately dependent on the size of your budget. Component prices are expensive, but it doesn't mean to say there are no practical options available. On the contrary, you'll find a lot of people who are into gaming PC builds will often stretch their budgets on just certain components, like graphics cards.
These are the people who are already familiar with hardware compatibility, so they don't have issues at all with combining certain components from various price ranges. But if you're just starting out on getting into gaming PC builds, you can refer to the following price categorization:
Entry Level Builds – Estimated Budget: $300 to $600
Midrange Builds- Estimated Budget: $700 to $900
High-End Builds – Estimated Budget: $1000 and above
Editor's note: the price range covers only case and hardware, with no inclusion of other peripherals.
What Does Entry Level Mean?
A $300 to $600 budget for your gaming PC allows you to run certain games at low settings, but you definitely won't be able to play AAA or any demanding games. At this price range, this is the best PC for playing older games, like games that were released about 5 to 10 years ago.
Note that with the stupidly inflated pricing of graphics cards, you'll probably end up with running integrated graphics on this budget for PC builds.
If you're fine with spending at least $500 to $600, you could land yourself a budget graphics card and an Intel Core i5 12400 (but realistically, you're getting probably 9th generation or 10th generation) with about 8GB of RAM and 240GB SSD for storage.
But you might just want to hold off on capping your budget at $600 and just move on to the
What Does Midrange Mean
At this price point, you're looking at about $600 to $800 (maybe even stretching to $900) for these PC builds. You're good to go with probably landing a decent processor like an Intel Core i5 12400 (or even 11th generation) with a decent air cooler, with a GTX 1000-series graphics card (if you can find one).
With a price range for this build, you're going to have fun with higher graphic settings and higher FPS settings. You'll also have more money to spend for more RAM and storage capacity.
What Does High-End Mean?
This price point for a PC specifically has you just saying "money's not a concern at this point", or you just want to get the best bang for your buck. Either way, you're no longer hesitant to stretch out your budget to build the best gaming PC possible.
At a $900 or higher, you're getting the high-end components. For Intel processors, you're ending up with an Intel Core i5 12400 or an Intel Core 7 12th generation processor. For AMD Ryzen, you're probably getting at least a Ryzen 5 or Ryzen 6. For gaming PC builds of this price range, you're enjoying 4K gaming at 60FPS or 60FPS at 1440p gaming even.
What Is A Good Budget Then?
When it comes to building a gaming PC, a bigger budget would guarantee better gaming performance. After all, your gaming PC is equipped with the right hardware that will allow you to play games at the desired settings.
For the current market that we have, including the fact that we have an insane surge of graphics cards' pricing, a decent budget for a gaming PC should be somewhere around $1,200. With the different price points above, you should be able to land an Intel Core i5 or i7 / AMD Ryzen 5 or 6 processors while still having enough money to purchase a GeForce GTX 1000 or 2000-series graphics cards (or AMD Radeon 5000-series).
Go For A Custom PC Build or Buy a Prebuilt PC?
By this time, you're still arguing as to whether or not it's better to get a custom PC build or purchase a prebuilt PC.
Assuming your budget is capable of purchasing either of the builds we've listed on this article, it's not exactly a bad idea to also go for a prebuilt gaming PC. Note that you might end up paying more to match the specs of the custom PCs we've listed here to a prebuilt PC. The reason being is that a manufacturer or brand of prebuilt gaming PCs will have already marked up their prices based on the components.
For example, a custom PC build will cost you about $1,500. Pre built gaming PCs of that same price might have the same specs or so, but expect some of them to be a little less powerful than the custom PC. For that budget, you could get yourself an Intel Core i9 processor with an RTX 3000-series video card for the custom PC. But for a prebuilt PC, your processor and graphics card may be downgraded to match the markup. If you go for a prebuilt PC with an Intel Core i9 and an RTX 3000-series graphics card, you'll end up paying more than $1,500.
With that said, there are two considerations here and should help you determine what's the best move for you here:
Go for a Self-built PC If:
You are fully confident about your capability to assemble the PC from scratch.
You are tech-savvy and you know where everything should go
You're able to get all of the components without difficulty, or are able to locate possible alternatives if any components are unavailable for purchase 
Go for A Pre built Gaming PC If:
If you're technophobic or feel the slightest bit not confident in your ability to put together a PC
Your knowledge about computer hardware and its inner workings are limited
You don't have access to getting all the right PC components
Playing games on either a custom PC build or a prebuilt PC with the same specs should still provide you with similar gaming experiences. Unless the prebuilt gaming PC you're eyeing is a big downgrade from the custom PC, the margin for better performance is thin at best.
But Is It Difficult To Build Your Own PC?
The honest answer here is NO. But the main concern for any newbie builder is compatibility issues and susceptibility to damaged parts. Compatibility can easily be managed if you know how to do you research for hardware.
But for damaged parts, you should be able to avoid catastrophically damaging any of the parts if you follow the instructions.
What Tools Do You Need?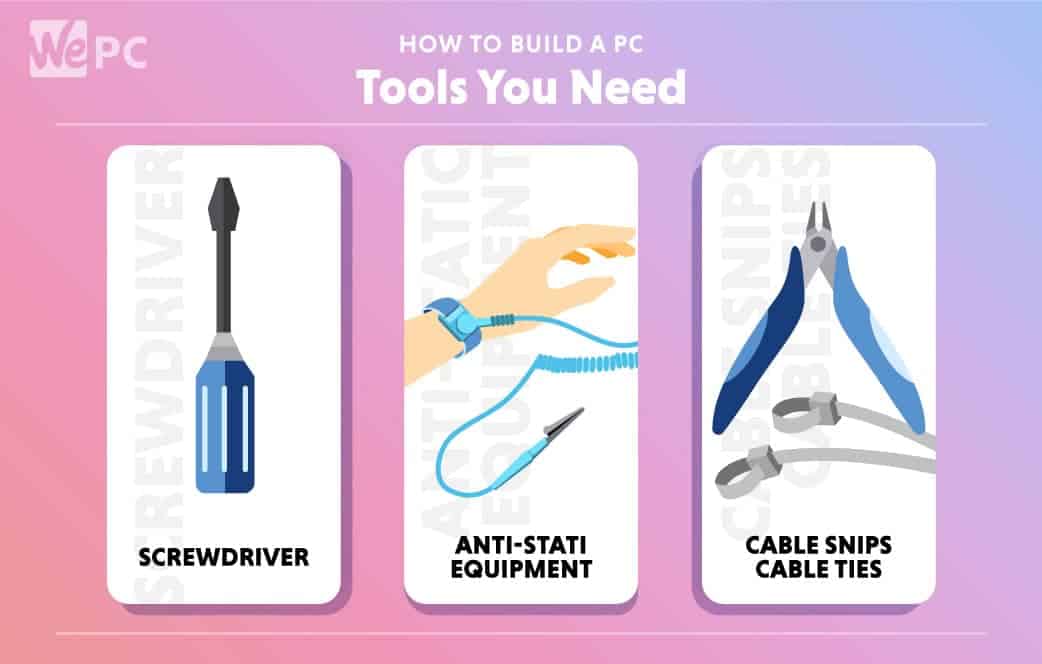 Before you build a PC, it's important that you have all the necessary tools and space to do so. Some of them you'll be able to find easily in your local hardware stores, if you don't have them at home.
So what are the things that you need?
Workstation or a large enough table to accommodate all parts laid out
Phillips Screwdriver
Antistatic bracelet
Thermal paste
Lint-free cloth or paper towel
Cable ties and cable snips (optional)
Isopropyl alcohol
Anti-static mat
Let's talk about a few of these items because we're pretty sure you're unfamiliar with some of them:
Workstation
You need a large enough space that's clean and capable of handling all the boxes of computer parts. You don't need a high-end set up as well or an anti-static room to do all of the assembly.
Make sure that wherever you're working has enough lighting because there are several intricate actions done when putting together certain components. You can also use an anti-static mat on top of the table to lay out all of the items. This anti-static mat will also prevent electrostatic discharges from damaging any of the components.
Screwdriver
The screwdriver will be your most used tool when it comes to building your gaming PC, from installing and removing the tempered glass side panels to installing the CPU cooler. It's also important that your screwdriver has all the heads to match the heads of the screws that the components areusing.
Thermal Paste
If you're building your own PC, you need to secure a thermal paste. This thermal paste is used in conjunction with the processor and its cooling fan, or CPU cooler, to prevent overheating. If you're running an AMD processor, its CPU cooler will have been treated with thermal paste, so you don't have to worry.
Antistatic Bracelet, Mat, and Gloves
Antistatic gloves, mats, and bracelets are important if you want to build a PC. This is to help protect your components from unnecessary electrostatic discharges. Some components, like the SSDs, are sensitive to these discharges, so if you're not careful, you could end up damaging them during assembly.