Minecraft is game filled with limitless possibilities, and if you think it's a game for kids, you've thought wrong.
For the uninformed, Minecraft is a block-building game. Think LEGO or MegaBlox. This is a world-building simulation where you and your friends log on to a Minecraft world or server and build anything that comes to mind.
A popular mode played by fans is Survival Mode. The premise is simple, you build a house or a shelter to survive the night and explore the next day. Monsters, spiders, and creepers come out at night, so gathering and mining becomes a problem.
For novice players, this can get overwhelming but as they become more experienced, Survival mode becomes a walk in the park, so much so that players just build whatever house they want to stay in for the night.
If you want to enhance your Minecraft experience and want to take building houses to the next level, this article will list down the best house ideas for Survival mode. These cool Minecraft houses are meant to inspire you for your next build.
Wooden and Stone Houses
Modern Minecraft houses are made from two consistent materials: wood and stone. These house designs are meant for people who want to become familiar with how the building system works before delving into the more complicated Minecraft house designs.
Typical Wooden Starter House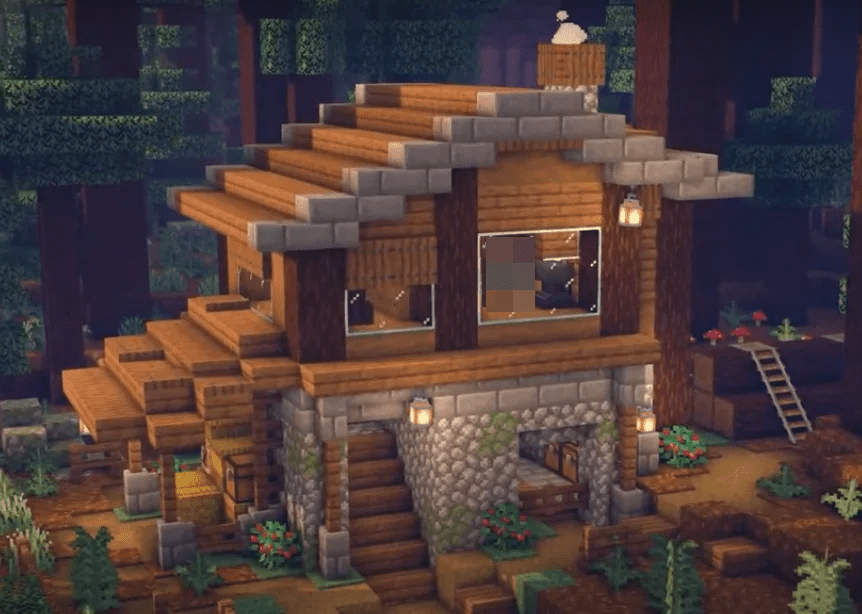 Source: DioRods
This is a typical build that new players often go for in Survival mode. The template of this modern house design is simple: you only need to lay out 7 x 8 blocks (Length and Width respectively), and go on from there.
The size of the house is pretty much Goldilocks, meaning it's not too big and not too small. You can spice this build up with using Mossy Cobblestones or Spruce Wood. Some players even make use of stone bricks for a more visual appeal.
Durability-wise, the build itself is practical and can be effective against zombie swarms. It shouldn't take you a couple of hours to farm the necessary materials.
Redstone House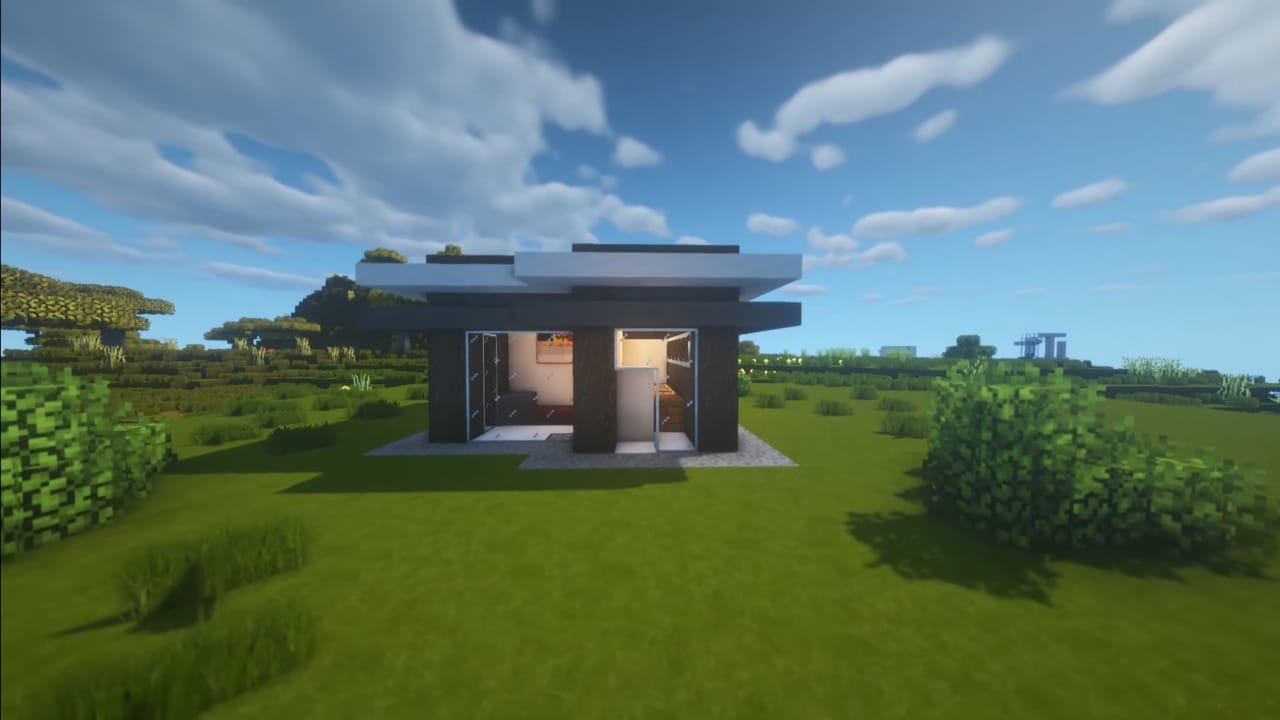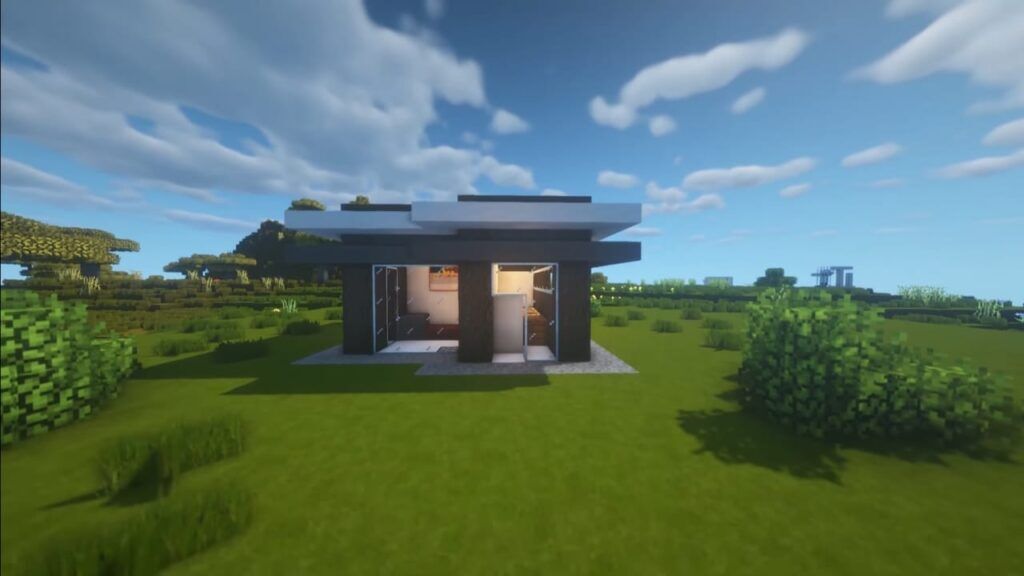 Another compact build that's made entirely out of stone is the Redstone House design. While the design isn't game-changing, this is one of the popular house building ideas for players who love to turtle up.
There's no trace of any wooden materials here because all you need are a lot of Redstone blocks, or concrete and smooth quartz. It all boils down to what you want and how fast you want it done. As stated, the sizing is about 8×8 (LxW) so farming and mining shouldn't be that long.
Oak Wood House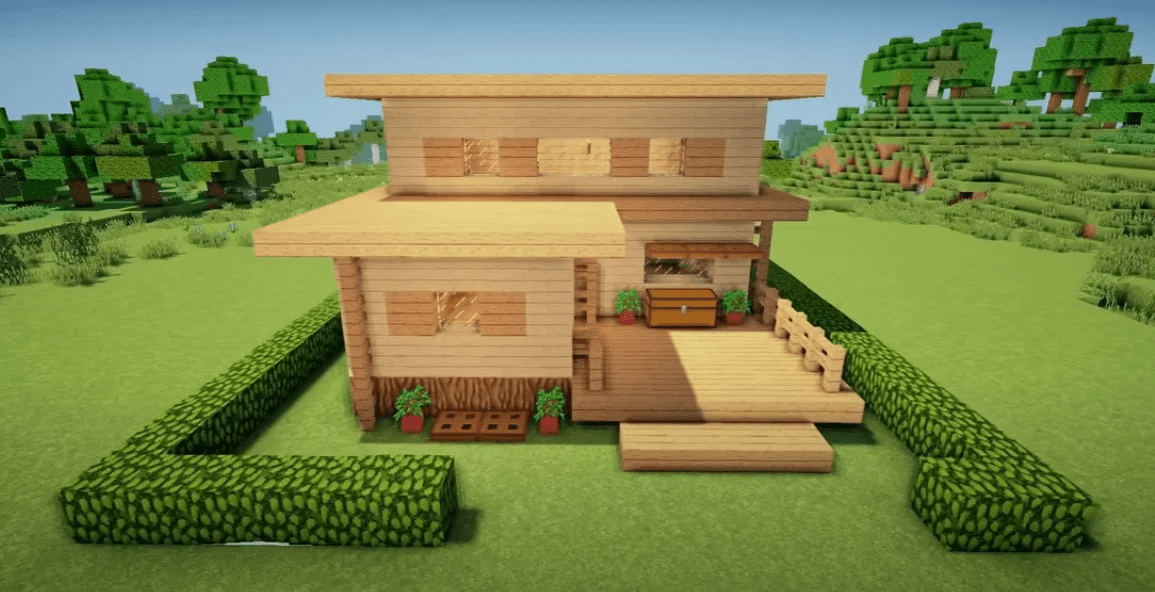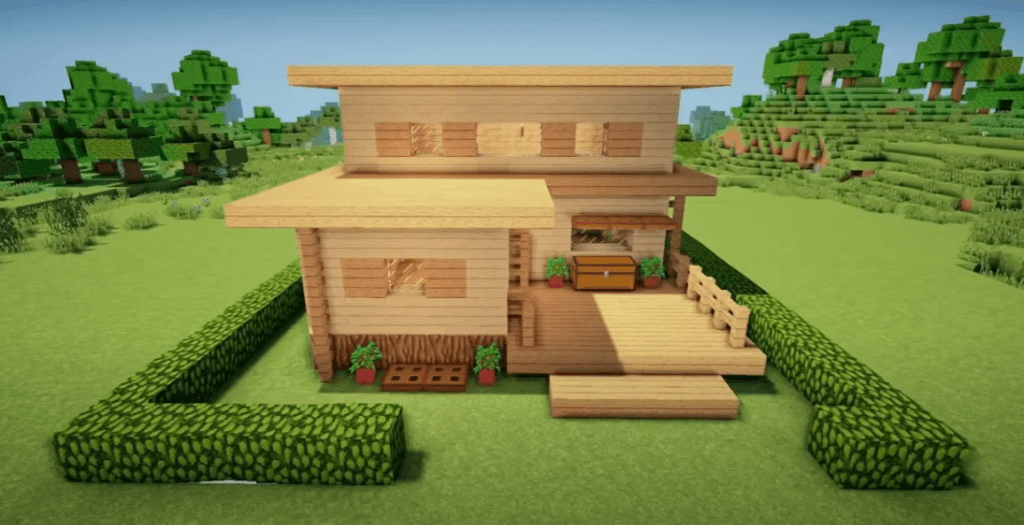 Opposite to the Redstone House is the Oak Wood Minecraft house build. Instead of Redstone or Concrete, you will need a ton of oak blocks. The modern aesthetic of the Oak Wood is appealing to players who want a minimalistic design but still want something more effective in terms of defense.
The Oak Wood is a lot bigger than the first two houses mentioned because its template is a 16×16 block layout. This might take longer to complete, but the payoff is just huge. You only need to farm Oak Planks and Oak Wood for the floor lining and then swap over to Birch Wood Planks. You'll need Birch Wood to build the walls and roof of the house. It's not exactly beginner-friendly, but is a good diving board into the more complex builds.
Compact Wooden Farm House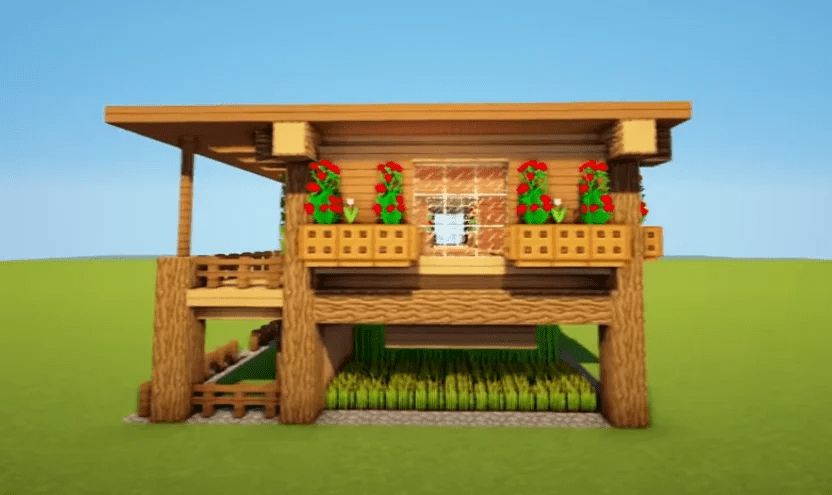 Another good early game house build is this two-storey farm house, the first floor being the farm itself. The house is compact enough to house a bed, some interior decorations, and an Enchanting Table. We say that this is a good early game build because you only need resources like Oak Wood and Spruce Wood for the exterior of the house.
In the Survival world, this is a go-to build idea. You only need a layout of about 11 by 16 blocks to build the house, and go on from there.
Large Wooden Mansion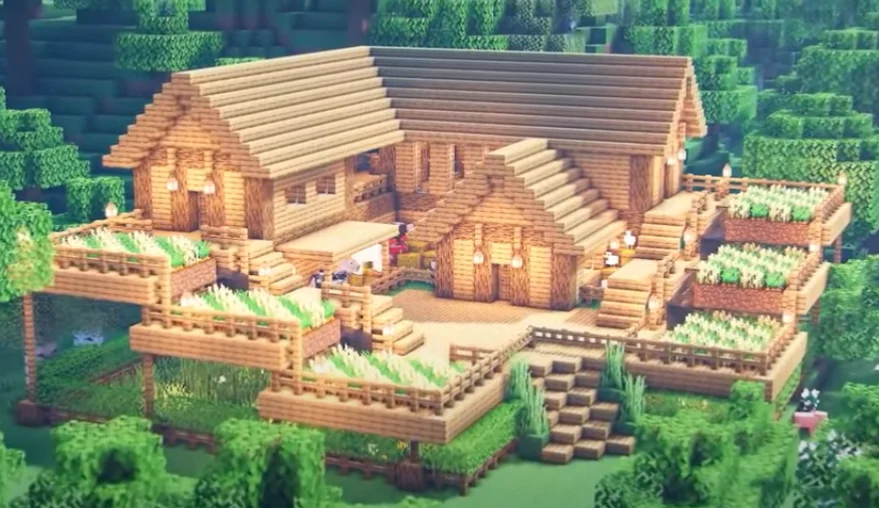 When you've been playing the Survival game for too long, you become bored building simple house ideas, so now you want to take things to the next level. And we're talking about building humongous mansions.
Contrary to the size of this build idea, the task of building the house itself isn't that large. You just need to farm an insane amount of Oak and Oak Logs, so you're spending hours cutting down these trees and more.
The house is big enough to accommodate several rooms and added functionalities like animal pens. You have enough space here to segregate pens for each of your horses, pigs, sheeps, and cows. And we all know how important these are in a Survival game.
If you want to take this build up a notch, you can build a basement or an underground base, which should get you more space for farming or decorative slots.
Cobblestone Minecraft House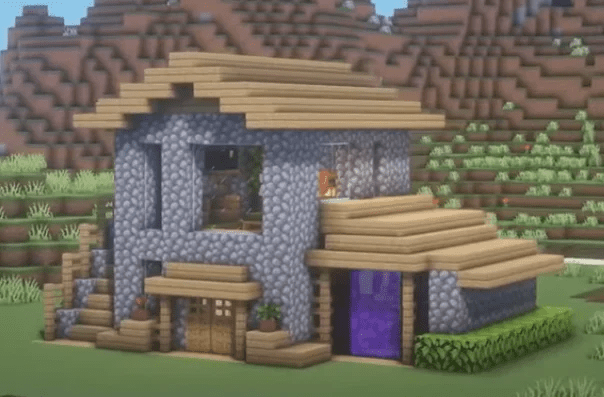 The Cobblestone House is a relatively new Minecraft house, mostly because people prefer to use Concrete or Redstone. But it's somewhat become more popular with the new players who don't want to farm for hours.
Simplicity is the name of the game here because the Cobblestone house doesn't have anything flashy tied to its aesthetics. At the core of it all, you're only using two materials: Oak and Cobblestone. The size is about 9 to 5 blocks but you can adjust based on what you need and want. You can go for different wooden and stone blocks too. A personal favorite combination of mine is Spruce and Redstone.
Large Oak House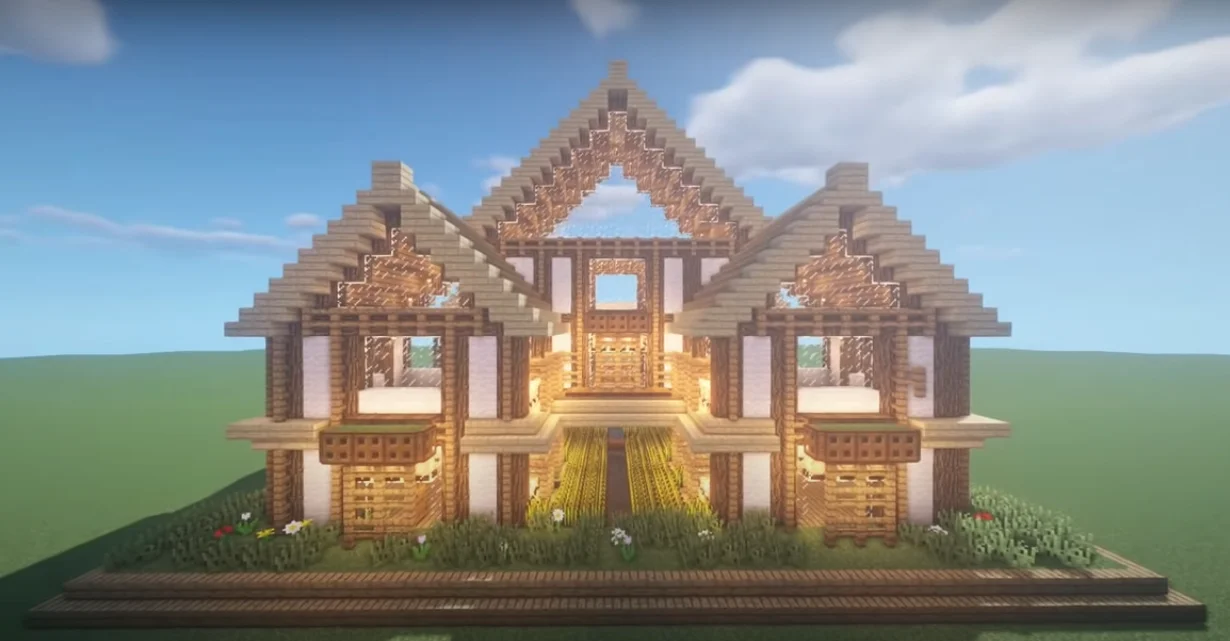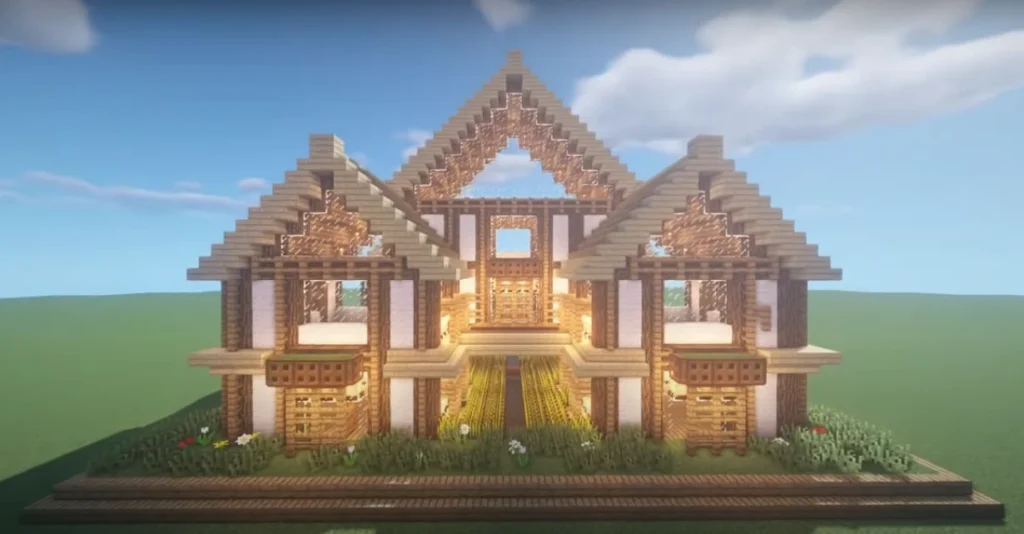 Much like the Large Wooden Mansion, the Large Oak House is a complex and bigger variant. You need a 31 by 31 layout as foundation for the entire house and yes, it can be built in Survival game.
You'll need at least 812 Oak Logs, 680 Oak Fences, and 692 Oak Planks plus a decent light source that you can farm early game. Beacons will do fine for the lighting, but Glowstones can be a good alternative too.
This large modern house is probably one of the best Minecraft house ideas just for the awesome combination of Oak wooden planks.
Survival Raft House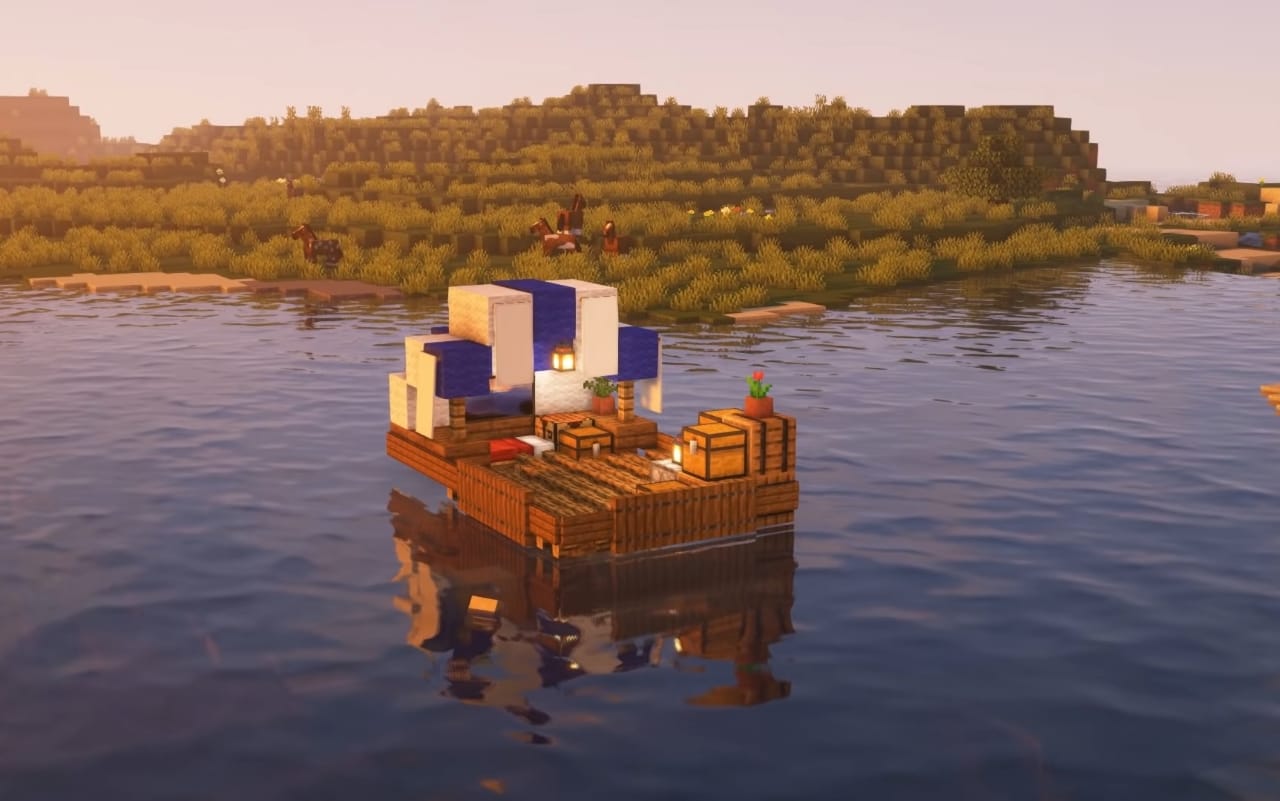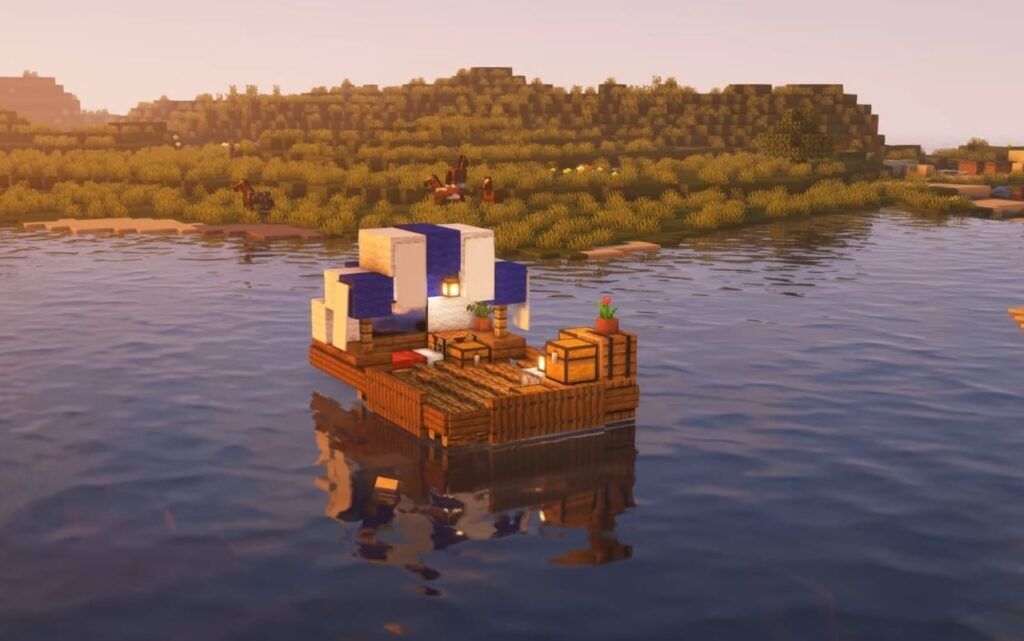 If your Minecraft Survival game has a map with water on it, then this Minecraft home idea is definitely a must-try.
The Raft House, as players call it, is one of the best house ideas made popular by Gorillo. The core theme of this cool Minecraft house is a house in the middle of the lake or sea. The reason why it's so popular isn't because it's aesthetically pleasing to look at, but rather, it's one of those cool Minecraft house ideas that help players survive against a different kind of enemy: Griefers.
Spaced out far from land, you're able to protect your valuable in-game items from random mobs and griefers who just want to break into other people's homes. And if you're wondering how to get to your house, well, you just build a raft. Hence the name, Raft House.
To get started with this build, you'll need some wooden materials like Oak and Spruce to make the raft and exteriors of the house.
Campsite Tent House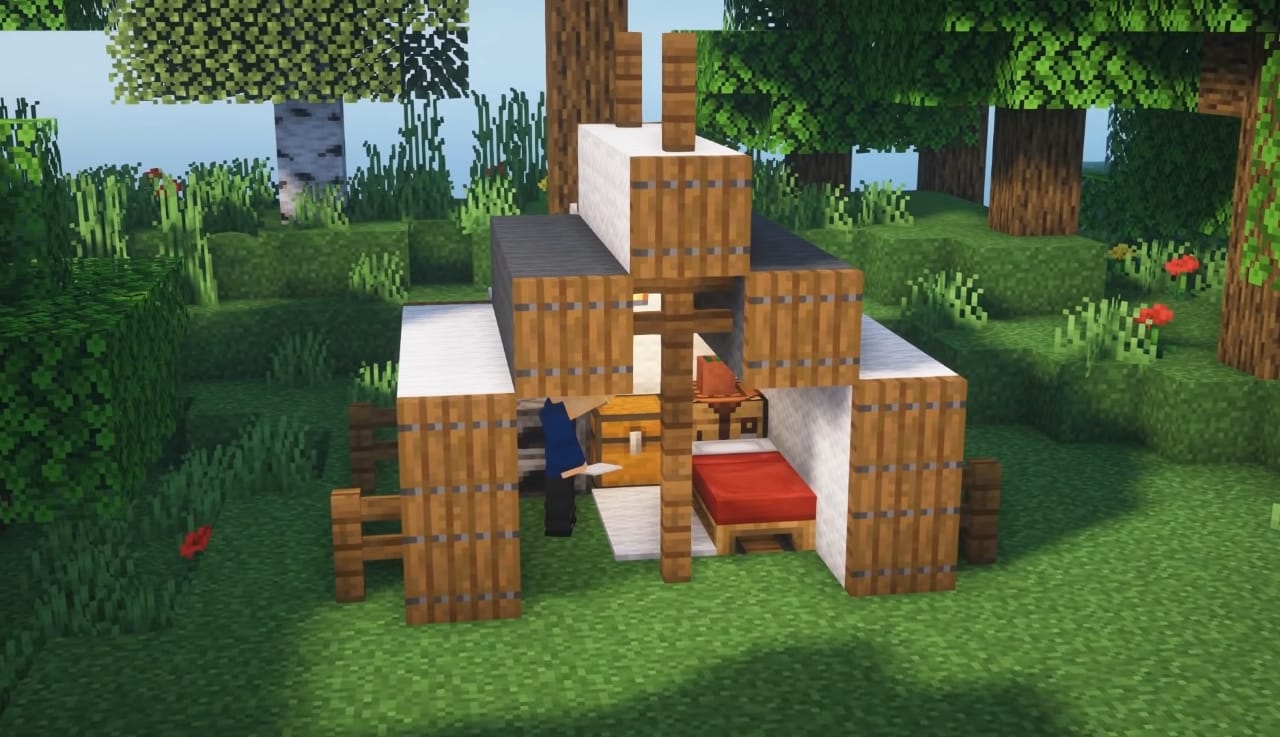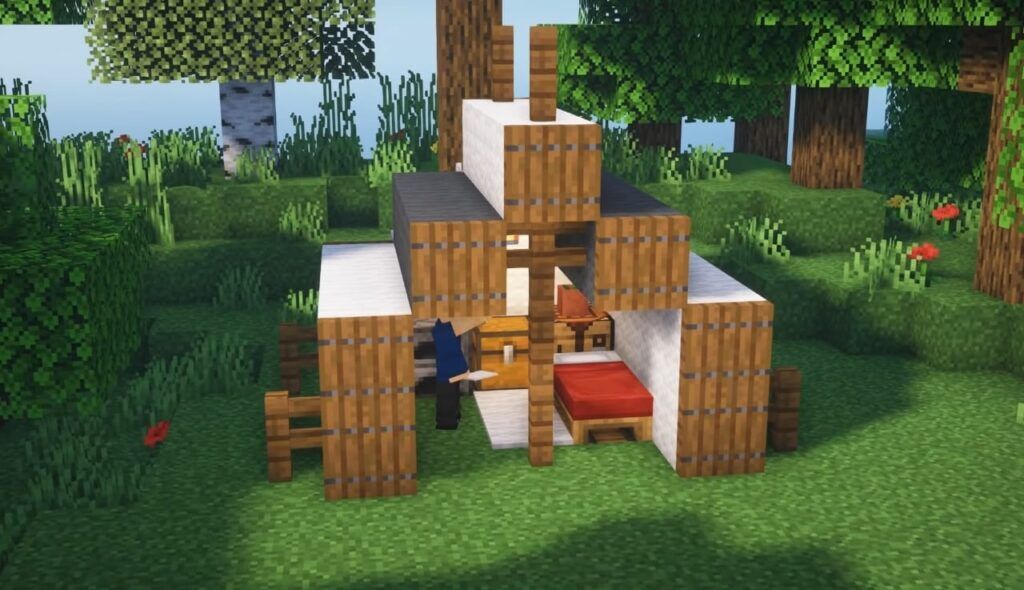 Another idea brought to you by Gorillo is the Campsite Tent House. Both the Raft and Tent House may not exactly fit the category of modern Minecraft house ideas, but they have their unique purposes.
The Campsite Tent House is the ideal Minecraft house idea for the player who can't stay in one spot. Imagine this situation: you're out in the woods and far from the safety of your friends. You've probably wandered too far and you're hearing Creeper noises left and right.
The Campsite Tent House comes into play by providing you some shelter and a place to rest at night. Gorillo explains in a YouTube video for the Campsite Tent House that he makes it using black and white wool combined with a Spruce fence to build the tent support. There are also Spruce trapdoors located at both ends of the tent. This Minecraft house idea gives you both mobility and protection without compromising each other.
Two-Toned Beach House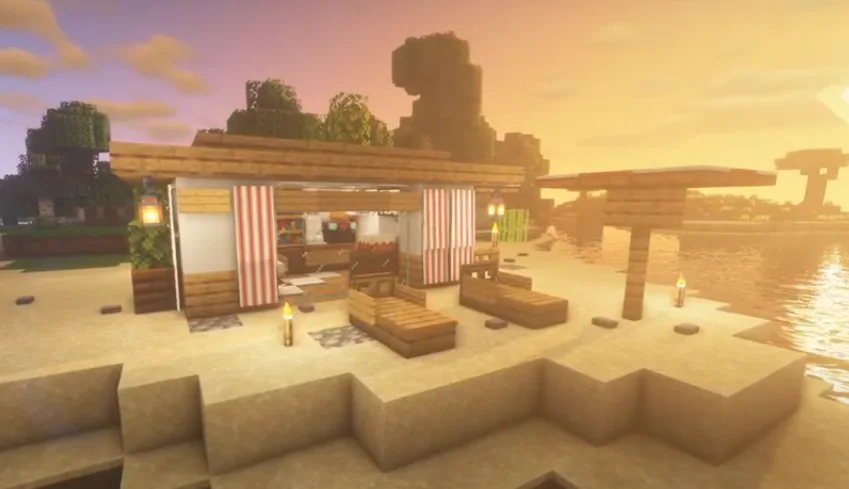 If you're feeling more creative, the Beach House is one of those cool Minecraft house ideas that doesn't require any building experience while helping you play the Survival game.
The Beach House is a combination of convenience and affordability because you only need two combinations of stone and wooden materials to make the exterior and finish it off with a White Stained Glass for an awesome view of the beach.
This is often a go-to modern house idea for players who want to keep a certain distance away from other players while keeping close to resources. Similar to the Campsite Tent House, the goal here is to stay protected while being mobile and distant. It's affordable enough that you can build it once more if you've strayed far from your original beach house.
Note that this Beach House turns into a Lake House when the beach is not included in your map.
Aesthetic Mushroom House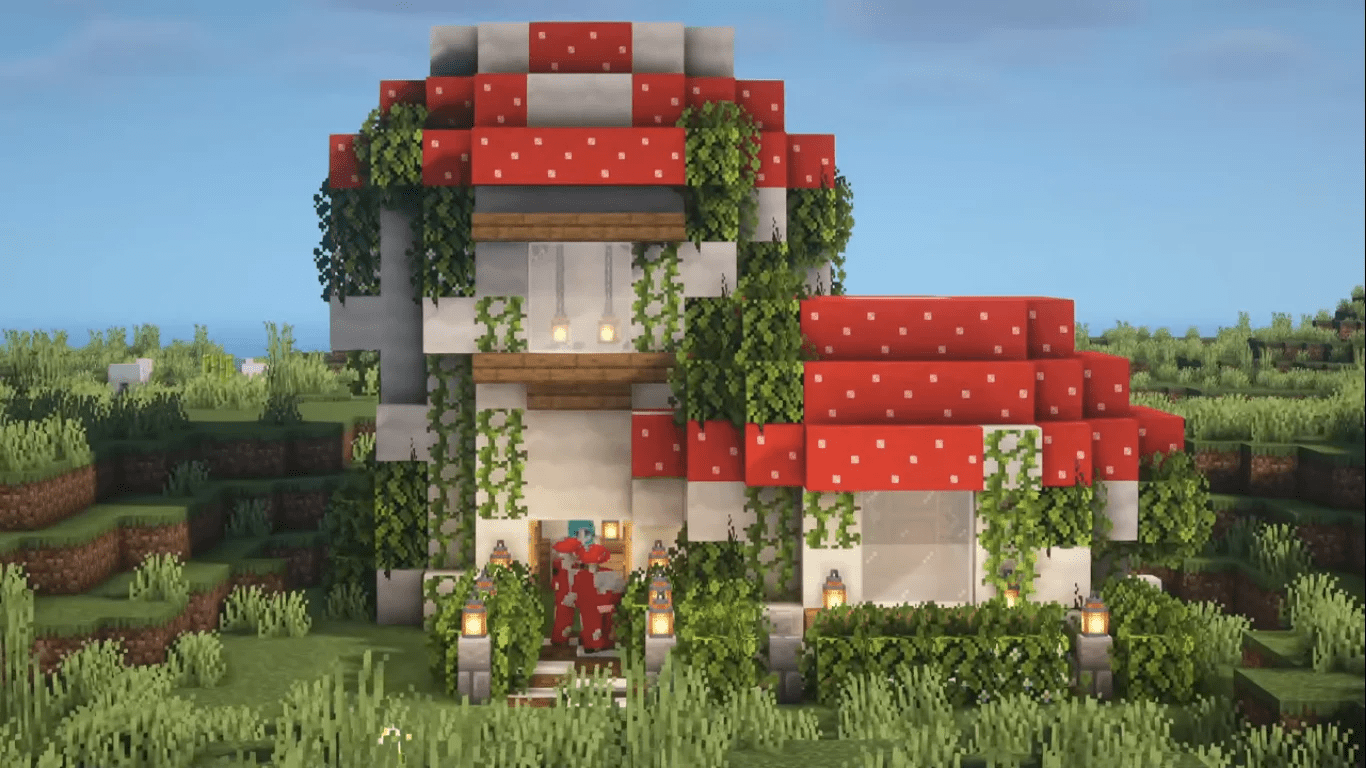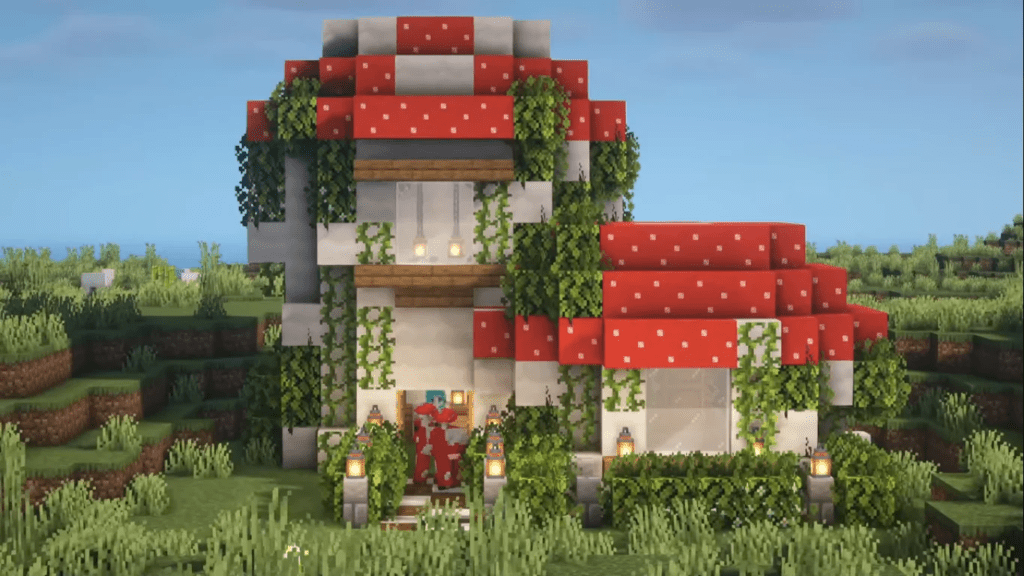 A unique way to approach building a survival house is to make it colorful and thematic. A good example here is the Mushroom House, and yes, it's a creative inspiration for your next build.
This house sports three color themes – white/beige, red, and a little bit of green. For the exteriors, you need Green Concrete, Spruce Wood Trapdoors, Stone Brick Walls, and Mushroom Stems.
The Mushroom House is also one of the smallest houses in this article as its layout only requires a 4×4 dimension, making it a decent starter house. You could also scale it larger if you want to accommodate added features. All in all, the Mushroom House is one of the most refreshing new ideas to come across Minecraft.
Little House On The Prairie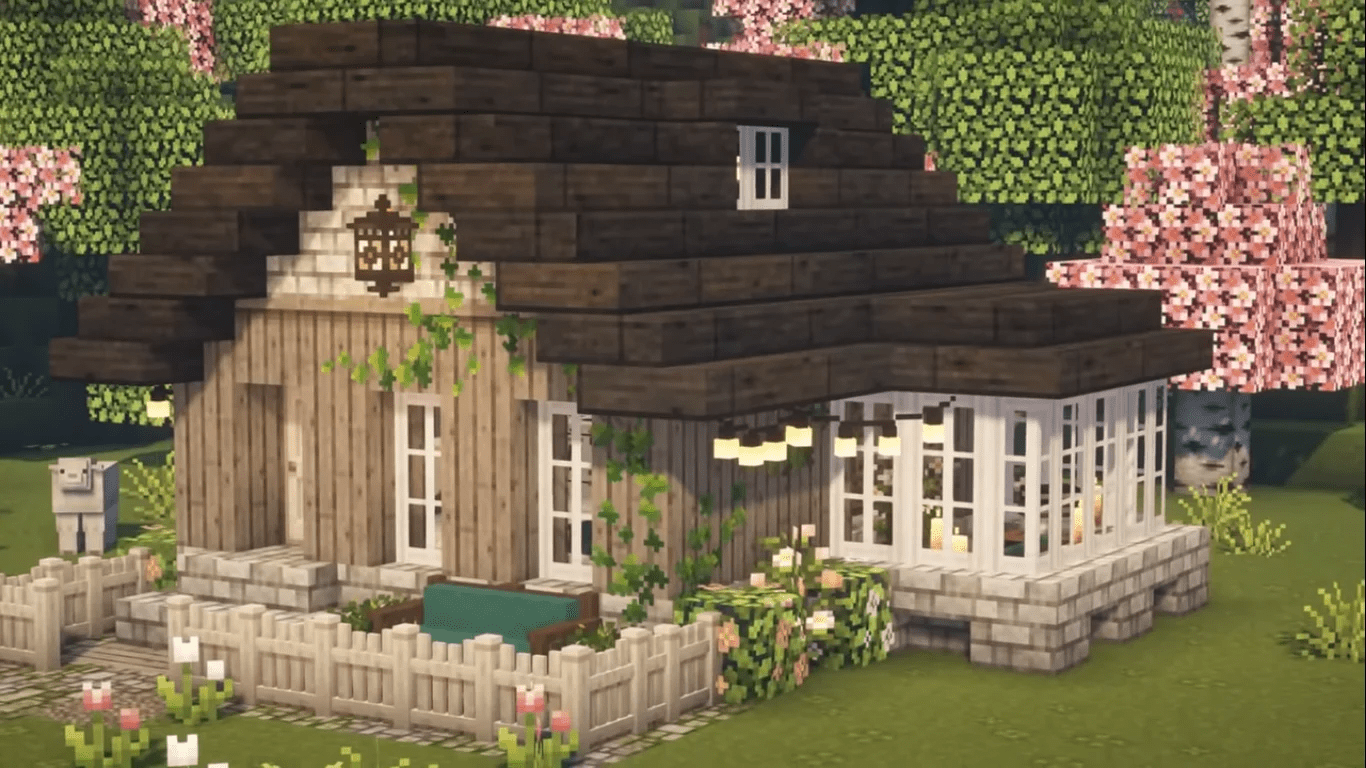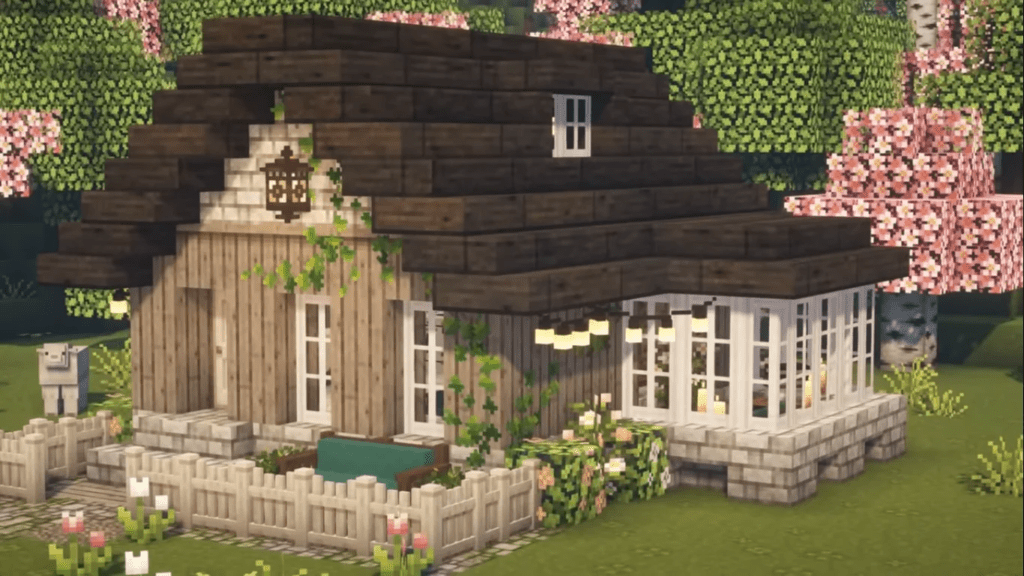 If you're familiar with the show Little House on the Priarie, this design should make your survival game a little bit more nostalgic.
This Minecraft house design is a good mix of western cabin and Japanese style house, with the latter usually bringing in a Cherry Blossom Tree with a white fence around it. This Minecraft modern house is compact, following an 8×8 layout, so it's not exactly tedious to build and doesn't draw in a lot of attention from other players.
For the exteriors, you can make use of two different wooden material combinations and one stone material to give it a nice mix of light and dark shading. For interiors, you got enough space to craft a bed, a kitchen, some walled lights, and a reading room if you fancy it.
Open Spaced Mountain Cabin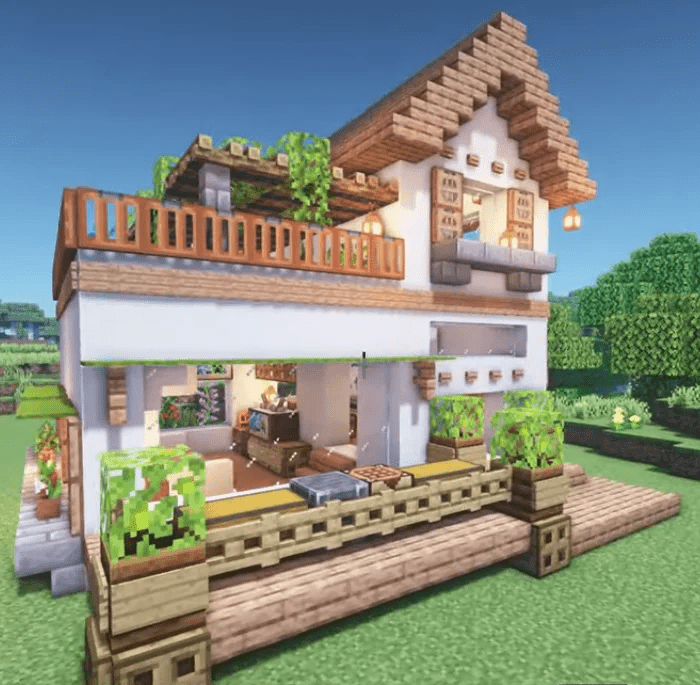 Another cute mountain house inspired design is the Open Spaced Mountain Cabin and is one of those Minecraft house designs that draws the attention of both new and old players alike.
This is a modern Minecraft home that looks like it was designed by Martha Stewart. The layout of the build follows a 7×6 layout initially for cutting grass then follow it up with the 11 block layout for the underground or ground floor foundation, so it's kind of wide but allows for more room for interior decoration. The aesthetics is cute enough that you may not even want to venture outdoors anymore.
After building the ground floor foundation, you'll need to build the second floor, which is ideally about 9 blocks high, so the entire layout will look like 11x7x9 (Length, width, height respectively).
Your choice of materials for the exteriors will vary. If you want a brighter color, you can go for White Concrete. In contrast, you could go for Redstone if you want something darker.
Los Angeles-Inspired Modern Mansion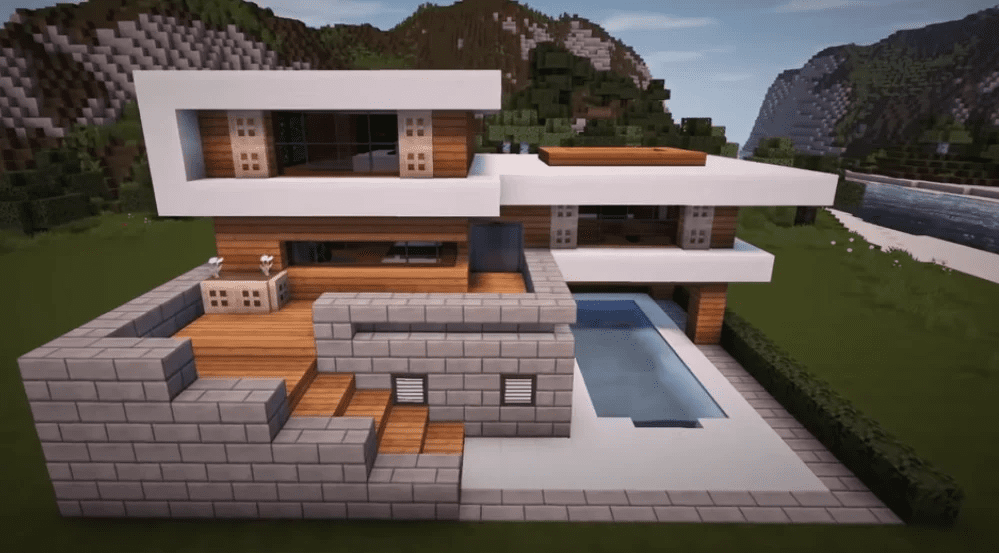 If you think you can't pretend you're building a celebrity house in Minecraft, think again. This is one of many modern Minecraft home designs that's inspired by real world modern architecture. Think swimming pool with wide open window panes and an edgy layout.
Build a new Minecraft house that looks like something Ryan Reynolds would live in, at least in a Minecraft universe. The design is straightforward and is one of the best Minecraft house ideas for those who want to make their building experience more exciting and rewarding.
The construction of the house starts with a 14 x 12 layout, and is made up of mostly glass panes, stone materials, and some wooden materials here and there. Then place stone bricks along the foundation of the base and then add two block to each base until the structure is about three blocks high. Bring in your wooden materials for the inner area, and following the same layout as the stone materials. By this time, your structure should have a two-wall foundation and then go on and fill in with all the niceties.
Grand Modern Mansion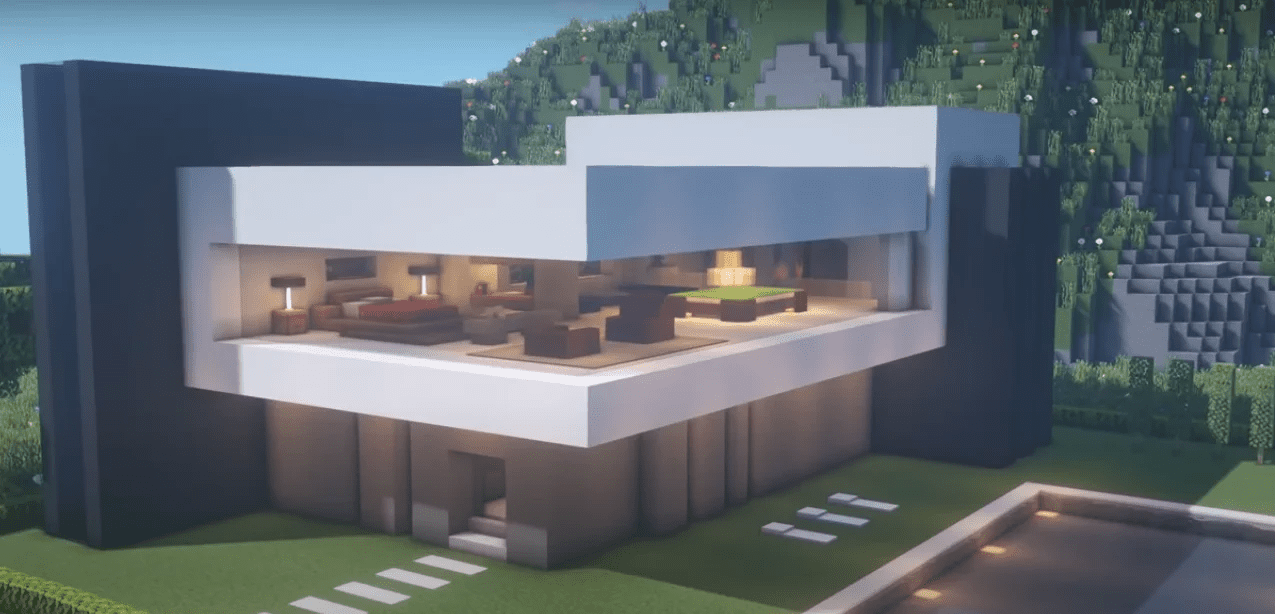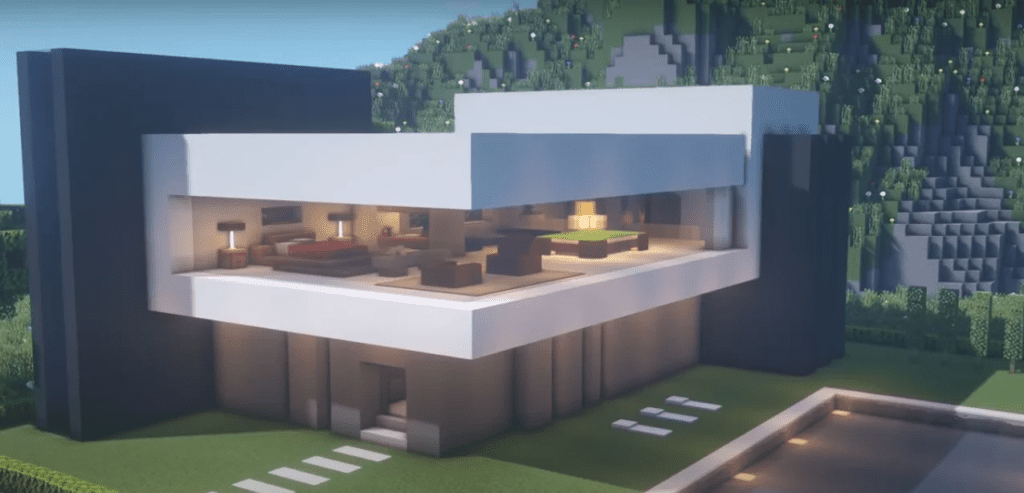 The grandest Minecraft modern house idea is probably this one, and we're talking about a month or two of farming, gathering, and building all in all. This is what we considered one of the great Minecraft house ideas that's both luxurious to look at and rewarding to build.
The size of the layout is 54 blocks by 52 blocks (length and width respectively) and takes up a good combination of wooden and stone materials. Your ideal material here would be oak and redstone or cobblestone. For lighting, Glowstone comes in quite handy here. One of our servers had a player who made his own version of this mansion complete with a man-cave. His man-cave was so detailed from the PC on the carpeted floor to the different jerseys on the wall.
Preparations are a plenty here so we won't go into too much detail, but the overall idea of this build is about luxury. Some of the stone materials such as Smooth Quartz are hard to find but easy to craft, so you're going to spend ample time exploring the place.
Compact Beach Modern Mansion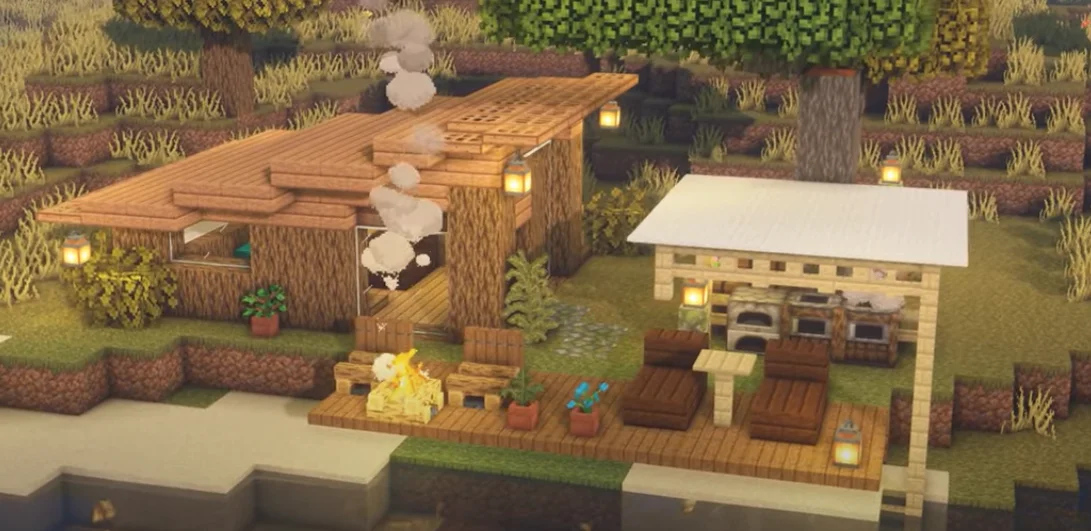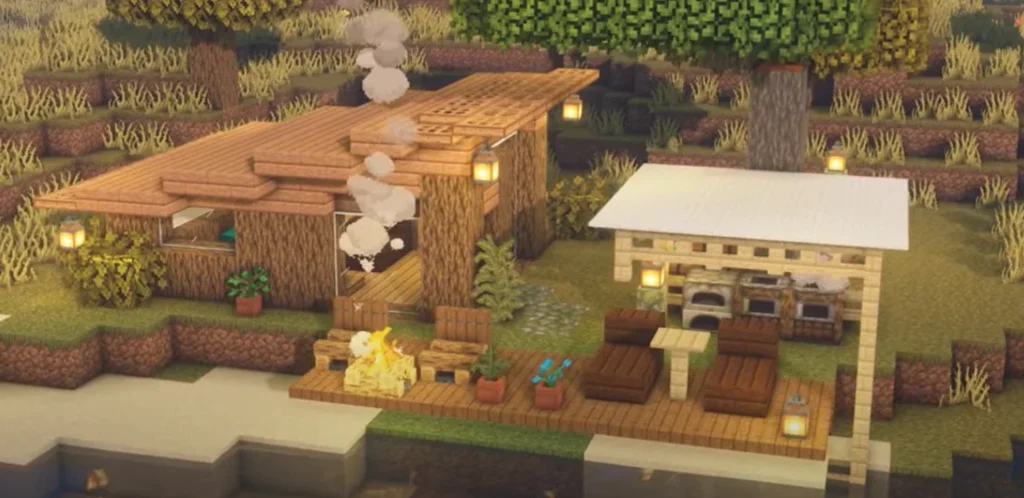 The words COMPACT and MANSION don't really make sense until you see this modern house idea in Minecraft. If you're looking to upgrade your current beach or lake house, consider this Minecraft house idea.
The concept of this Minecraft house is simple. It's a solid combination of mostly wooden materials with a little bit of stone and concrete with a dash of glass panes, at the very least. Then more materials might be needed down the line if you want to add more visual appeal.
For decorations, you can go with paintings, barrels, ship items, lanterns, some crafting or enchanting tables, and a campfire. You can definitely make use of this in a Survival game, but since this might be a tedious build, you might want to go for a mobile house idea as you're building this house.
The size of the house is about 6 by 8 blocks, but you can reduce it by as much as 5 by 8 blocks if you want less gaps in between this cool Minecraft house idea.
The resource required for decorative purposes include paintings, smokers, barrels, strings, item frame, lanterns, crafting table, and a bunch of others. Campfire and oak leaves are also going to be needed to make this house look exceedingly presentable to fellow players. You can also pull off a building like this in Survival Mode, so there's that added benefit as well.
Some Tips To Build These Minecraft House Ideas Like a Pro
Set The Foundation First
The first tip you should consider listening to is to build your foundation for your modern house first. If you noticed in the list of Minecraft house ideas here, we've always mentioned how wide and how long each house is.
To start building the foundation for your modern house, all you really need to do is cut the grass, dig a hole if you're building an underground house, or lay blocks around terrain when needed if you're into a Japanese style house or a mountain house.
The ultimate goal here is to identify just how much space you need to build your suburban Minecraft house, or if you can accommodate a Survival house in a restricted area given to you.
Cubes are Overrated
Square huts are great and all, and don't make for bad Minecraft house ideas, but a cube-shaped Minecraft house is overrated. Your first goal in a Survival game is to have proper living accommodations, such as roof and walls to protect yourself from griefers and monsters, so your first instinct is to go for a cube structure.
If you're up against some great players, they'll know how to deal with your cube house by building something around it to prevent you from entering it or exiting it when you respawn. By shaping the house differently, you can prevent getting boxed in by your opponents unnecessarily.
Watch How-To Videos From Experts
Professional builders such as Gorillo can make anything on Minecraft, that's why they've taken their ideas on how to build the perfect Minecraft home and made videos on how to go about with their builds.
These professional builders will include the nifty details in their YouTube video tutorial for making particular house designs, such as the number of smooth quartz blocks you need or the amount of jungle planks you need to build the exterior.
There are also YouTube videos out there that will teach you how to go about with structures for Minecraft treehouses, how to build a real life ocean floor, and other things that would make you want to go into creative mode.
Flat Walls Are Bad!
There's enough material to build a Minecraft house, so much so that you can actually go for more than one type of stone material to build your house. Some of the house ideas listed above make use of a Redstone or Cobblestone combined with White Concrete to give their Minecraft house a two-toned color scheme
Add some flair into your interiors by building pillars to give your own take of a Minecraft modern house more identity and make it look like it's more spacious than it looks.
Go For Themes
You can only go so far when it comes to building basic Minecraft houses, and in the Minecraft world, the sky's the limit for creativity. Your survival house doesn't need to be restricted to just walls, roofs, and some trap doors.
Why not add life to your Minecraft house design by adopting a theme? A common example is a medieval theme, commonly used by professional builders in the Minecraft world. We've seen some amazing videos of people building Minas Tirith from Lord of the Rings and even Hogwarts.
Your house design doesn't need to look like a castle but you can give it some medieval vibes with the right material combination. The same can be said for build a wooden house, tree houses, or even a hanging house (if you're risky enough).
Other good examples of themes for a Minecraft house would be a haunted mansion, underwater houses, mountain houses, and even video game themed house build.
Experiment, Experiment, Experiment
If you're always on the lookout for the next house idea, the best way is to just experiment, experiment, experiment. Some of the best Minecraft house ideas we've seen started out as experiments and bloomed into perfection.
From underground houses to an underwater house design for Minecraft houses, you just have to know what kind of house you want to kind of build and go from there. There's no one judging you if you're experimenting in Minecraft.
Building a City? Use Negative Space!
Some builders aren't satisfied with just building a house. They often build cities, and if you're planning to take your creative mode to the next level, then you're in luck.
You don't need to be a professional when it comes to building and designing a city. One important tip to make your city look just as good as the real life pros would've designed it is to use negative space.
Negative space adds more detail to a particular city structure without directly affecting the way it looks. For example, adding an alleyway and pavement in the sides of a building is a good example of making use of negative space.
Be Like Hansel and Gretel. Leave a Trail.
When we're too immersed with the exploration part of Minecraft, we often lose sight of how far we've travelled from our home base. This makes it difficult for us to return and makes us more susceptible to attacks from creepers and griefers.
A good way to survive the Minecraft world is to leave a trail. You could leave trails of stone blocks, or make certain carvings on the ground to let you know where you've been. Then when you're ready, you just follow the trail you've made and return home safely.
Practice On Your Own Minecraft Server
Having your Minecraft server is like an initiation rite into becoming a full-fledged Minecraft player. They're really affordable and give you enough space and flexibility to accommodate players if you want or just to give you alone time to build your Minecraft house without any interference from other players.
You can go purchase your Minecraft server from different providers, and you just need to do a quick Google search honestly. The monthly cost is about US$3, depending on what features you've purchased. Some of the hosting providers are similar in nature to web hosting platforms for websites. You get DDoS protection, a subdomain, 24/7 customer service, and more.
Real Life Architecture Can Be Inspiring Too!
Don't know what to do with your excess Spruce logs or Spruce planks? Can't figure out how to plan stairs leading to another part of the house? Or have you just hit a creative roadblock?
If you don't know what to build for your next survival house, you can always look at real life modern architecture for ideas. Some of the best Minecraft houses in the game look like they were designed by award-winning architects but they were just inspired by them.
Building an underground house? Why not look up architecture for underground man caves or luxury basements that rich people have? If you know what kind of survival house you want to build but don't know about the design just yet, all you need to do is to do a quick Google search.
General Tips for Playing Survival Mode
Be Careful Out There
Don't be too complacent even in the daytime. You'll be surprised to know that even professional Minecraft builders can be oblivious to the Minecraft world when consumed by their creative juices. You're hyper-focused on getting ores and all of a sudden you get eaten by a Creeper.
Thankfully, the game makes it easy for you to watch yourself because there are audio cues to watch out for. It might take some time before you're familiar with all of them, but a general advice is this: if you hear something unusual, check your surroundings.
Slow and Steady Wins The Race
What we mean here is that you should pace yourself when you're getting into Minecraft. Some people make the mistake of taking in a large project and as a result, they become overwhelmed and just quit.
If you're a beginner, start out small first and get used to the building system, how to gather materials, and so on. Then as you progress with your in-game knowledge, you also progress with how you approach building projects.
If you're a solo player who doesn't have a consistent group to play with, large projects are still possible but might take you longer as opposed to having other people help you.
Set a Day for Building and Another For Gathering
Part of pacing yourself in the game is to know when to build and when to gather. Beginners make the mistake of doing both at the same time because they want to do as much as they can with the limited time available to them.
However, if you want to progress smoothly in the game, you'll want to schedule your gathering for one day and building for another day. This helps you avoid burnout and mental fatigue due to hyper-focusing.
When you create a day for gathering, you're ensuring that your next building day will be smoother because you already have the materials to help you build. Rome wasn't built in a day, and neither was that large mansion you saw from Gorillo's YouTube.
Some Final Words
If you're new to Minecraft and want to know how to build an underground house, this article of different Minecraft house ideas should come in handy. There are a lot of resources out there to help you build modern houses in Minecraft.