Having a solid gaming PC for 1080P gaming doesn't have to mean spending a fortune. This $600 gaming PC build will be able to run most games on higher settings on 1080P monitors and with excellent framerates.
The only catch is that you'll have to build this computer yourself on a budget. The reality isn't as daunting as the idea of it though, and by building the computer yourself you can cut down on the high markups costs that are attached to pre-build PCs. Plus, with that money you've saved you'll be able to invest in a more powerful system.
So if you're up to the challenge, read on to see what components you'll need to build a powerful gaming PC at just $600.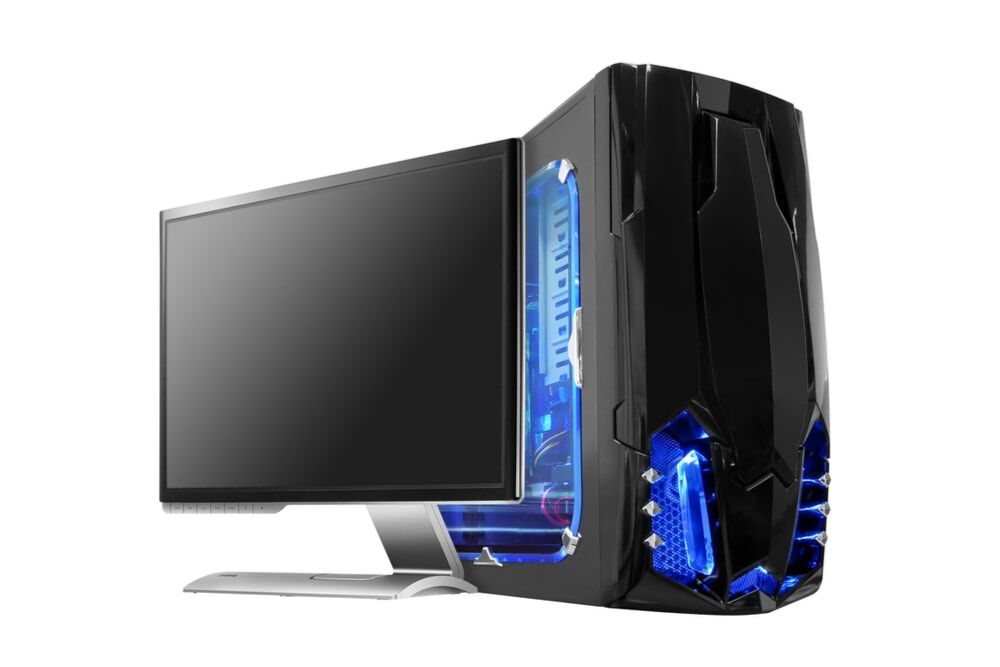 $600 Gaming PC Build Overview
While everyone covets a new gaming computer that has liquid cooling, an incredible graphics card and CPU combo, lots of RGB lights and a cool case, these are not really necessary components for you to be able to play your favorite games on higher settings.
So if you're chiefly interested in being able to play today's best PC games on high settings on a 1080P monitor, it is possible to do this with build a PC with a budget of $600 or less. You could go for prebuilt PCs under $1000 if you want to extend your budget.
While the parts list below doesn't include an AIO cooler and no RBG-laden case, it still lets you experience your favorite games with a whole new level of graphics.
For $600, you can get an Intel Core i3-10100f processor, an RX 5500 XT graphics card, 16GB of memory, a 480GB SSD, and a 650W power supply.
The i3-10100f and the RX 5500 XT combination will be able to run demanding games on higher settings, and will run max settings of less demanding games like Fortnite and League of Legends with no problems at all.
Parts List for $600 Build
The ODD can be installed from USB and the OS would be Windows 10.
While prices of components vary over time the grand total of this parts list (not including the price of Windows 10) is between $570-$630.
Why isn't Windows 10 Included in the Price?
We probably don't need to tell you that your computer won't run without an operating system, but we've still left the price of an operating system out of the overall price of the build. Because while Windows is the best operating system for gaming, a brand new copy of Windows costs about $100.
However, there are alternatives.
Installing a free Linux operating system is an option, for example. While you are limited in what games you can play, it's obviously considerably cheaper than forking out $100 for Windows.
Another option is buying a Windows 10 key from a third party marketplace for about $30. While sources like Kinguin.net are considered trustworthy places to buy a Windows key, buying a Windows license from a third party source is definitely risky.
Lastly, you could install Windows 10 for free and not activate it. This is probably your best option. This is because Microsoft lets anyone install Windows onto their computer without needing to activate it. For the most part, you can still use Windows even when it's not activated.
However, you do lose out on some customization options like setting a custom background for your desktop. But that's probably a sacrifice worth making for an essentially free version of Windows. Plus, using a non-activated version of Windows is definitely a valid option until you can afford an activation key for it.
PC Gaming System Breakdown
One of the best parts about choosing components to build a new computer is that while there are definitely right and wrong components to get, there isn't a right or wrong way to go about it. While the components listed above will perform well for $600, there are other routes you can explore with this build. Below, we'll discuss some of the other options you have.
Another bonus to building a computer is that you always have the option to upgrade it in the future, and we'll talk more about possible upgrade routes too.
But before we look at the different component options and potential upgrades, let's take a look at what kind of performance you can expect from this $600 gaming PC.
For just under $600, this PC can handle nearly all games on max settings on a budget-friendly 1080P monitor. For example, it can run less-demanding games like Apex Legends, League of Legends, and Rocket League on max settings at about 100+ frames per second. You'll also find gaming laptops with the same price tag to have the same specs too.
It also runs more demanding games like Call of Duty: Warzone and The Witcher 3 on higher settings at around 60+ frames per second.
So whether you're building this system for competitive eSports titles or some of the more detailed and demanding games, this system can easily handle both on higher settings.
Intel Core i3-10100f vs Ryzen 3 3100 vs Ryzen 5 3600
There are three processor options that would work well with this build. These are the AMD Ryzen 3 3100, the Intel Core i3-10100f, and the AMD Ryzen 5 3600.
We included the Intel Core option in our parts list because when the cost of the motherboard and memory is included, it's probably the most affordable option. Of course, prices do vary, especially when sales are on, so it's a good idea to shop around before you make a final purchase to see if you can get something at a discount.
GTX 1660 vs RX 590
While the three processors we mentioned above are all viable options, which graphics card to go with (either an AMD RX 590 8GB and a GTX 1660 6GB) is an even tougher call.
Most benchmarks indicate that the GTX 1660 and RX 590 perform equally as well in most games, and they're usually available for the same price. So the best option is probably to go with what the cheapest GPU is at that moment because both cards will deliver a similar experience.
Can Upgrades Be Made?
While this $600 gaming computer is pretty powerful already, there are some upgrades you can make in order to really get the most out of it and get the best performance.
The first upgrade would probably be to add more storage. This build already has a CPU and GPU combo that could easily max out games on a 1080P monitor, so upgrading these two components probably won't make sense unless you're also upgrading your monitor too.
So we would suggest jumping up to add an SSD with an additional 500GB or more. Later, if you want to go for a 1440P or 4K monitor, then the CPU and GPU will need to be upgraded too. But since this build already has a decent motherboard and power supply, that shouldn't be too hard to accomplish.
Accessories For Your New PC
If you're looking for a monitor, keyboard, and mouse to accompany your new system, you'll definitely need to get one of each. Below you'll find some budget-friendly recommendations that will compliment your new PC build.
We haven't considered other accessories such as the best capture cards for streaming, microphones, and webcams as they might force you to go over your budget.
Gaming Monitor Picks
This monitor has 3ms fast response time, and ghosting and blurring is reduced so you enjoy your game with clarity and precision.
---
Gaming Keyboard Picks
For advanced gaming-grade performance, this keyboard is up to 4 times faster than standard keyboards so every press of keys is instantaneously displayed on the screen. The tactile performance keys also make for more responsive gaming.
You can also easily personalize up to 5 lighting zones from over 16.8 million colors to match your style and gaming gear thanks to Color Spectrum Illumination.
Dedicated media control lets you quickly play, pause, skip and adjust the volume of music right from your keyboard.
---
This small, compact keyboard has dust proof mechanical switches and equivalent linear switches for fast clicking action that has minimal resistance, no tactible, bumpy feel and is quiet to boot.
It is also backlit with rainbow LED and has different lighting effects and game modes, including 2 user defined modes. There are also multiple brightness levels to the speed precision keycaps for crystal clear, uniform backlighting.
This keyboard is also ergonomically designed with high-quality, durable metal-abs construction and plate-mounted mechanical keys and switches. Even during gaming marathons they can stand up no problem!
All 87 keys have anti-ghosting capabilities and conflict-free nkey rollover. There are also 12 multimedia keys, and the non-slip ergonomic, splash-proof design comes with gold-plated high-speed corrosion.
This keyboard also comes with a free USB connector so you always have a reliable connection, and is compatible with Windows 10, 8 and 7, Windows Vista and Windows XP.
---
Designed with metal-look edges and blue illumination, this keyboard is super stylish and imposing.
This keyboard also uses Tt Type II Plunger Switches with mechanical keycaps that improve gaming performance by giving you unparalleled speeds and responsiveness.
The keycaps can also be replaced with tT eSPORTS' Metal caps for tougher, more resolute feel to key presses. Plus, if you get bored of looking at the standard keys, you can switch them up with these metallic offerings.
The function keys also have cool functions like Repeat Rate, letting you control the speed at which they repeat, be it fast or normal. So you can choose a rate that matches your comfort level. There's also the Switcher, which you can turn into WASD keys or vice versa.
There's also incredible illumination backlighting with this keyboard, bringing you style and functionality during evening gameplay. The blue LEDs with beautiful adjustable illumination back lighting makes gaming in the dark easier than ever.
---
Gaming Mouse Picks
From the world's best selling gaming gear brand, this mouse from Logitech has an 8,000 DPI gaming-grade sensor that responds precisely to movements. You can also customize sensitivity with Logitech G HUB gaming software, where you can peruse up to 5 DPI settings.
You can also play in color with the vibrant Lightsync RGB featuring color wave effects that are totally customizable with an incredible 16.8 colors.
To choose from preset colors and animators you'll need to install Logitech G HUB software, and you can use this software to make your own animations too. Game-driven, audio visualization and screen mapping options are also available.
The classic and simple 6-button layout and classic gaming shape of the mouse is much loved for a reason. It allows you to play comfortably and with total control. To simplify tasks, each button can also be customized using Logitech G HUB software.
The mouse's primary buttons are mechanical and tensioned with durable metal springs for reliable, consistent performance and excellent feel. You're sure to appreciate the crisp clicks and precise feedback while gaming.
---
This mouse has 5 DPI options for you to choose from (500,1,000, 2,000, 3,000 and 5,000) to meet your needs, whether you are using the mouse for gaming or work. It can be adjusted simply by taking advantage of on-the-fly DPI switching to instantly match mouse speed to gaming demands.
The Mouse Point Speed setting also lets you make small changes to the movement speed of the mouse so you can find the right fit mode for you.
This mouse also has 7 programmable buttons and 16.8 million lighting 'breathing' RGB that enable superior productivity and efficiency to meet all your needs.
It also has 5 memory profiles each with a dedicated light for quick identification and 16-million color backlight breathing RGB LED that emits ambient light for a unique gaming experience.
This mouse has also adopted the latest professional gaming chip, AVAGO, to capture fast and accurate movement for precise control, and the aforementioned 5 adjustable DPI settings that you adjust depending on what you're playing. This mouse also has a maximum tracking speed of 100IPS.
The M711 Cobra gaming mouse is a must-have accessory for those serious about gaming, as it's ergonomic design is unparalleled.
You're sure to be impressed by the incredible comfort, lethal accuray and laser-sharp precision of this durable mouse, that is great for both gaming desktops and laptops.
It's also incredibly silent, so you can click away without worrying the noise will disturb others, especially if you're using the mouse in a library, dormitory or office setting.
It isn't hard to see why die-hard gamers love this mouse. Whether you are aiming, attacking, slashing or targeting, this mouse will be your greatest weapon. It is compatible with Windows 2000/ME/XP/03/Vista/7/8/10 for programmable using and Mac OS for normal use.
---
Conclusion
This PC build proves that you don't need to spend a small fortune on a computer that is powerful enough and capable of running today's top games at higher settings.
It may not be a high-end gaming computer that can handle 4K gaming, or push a 1440P 144Hz monitor, but it's great for those who have a laptop or older desktop that struggles to run games on a 1080P monitor at a playable framerate, and don't have the massive budget required to upgrade to a high-end system. This $600 gaming PC build is a fairly affordable solution.
This build will not only give you the performance necessary to run the best games out there on higher settings, but will also give you plenty of room to make upgrades further down the line too.